Easily analyse your Infor SunSystems data
Using Infor SunSystems, you understand the importance of data analysis in making informed business decisions. However, the process of analysing financial data can be challenging, especially when using modern analytics tools like Power BI. This can be further complicated when trying to combine SunSystems data with other non-SunSystems data for a complete view of the business.
PA have the solution to this challenge! Our data connector automates the extraction and loading of financial data into Power BI, allowing you to easily analyze and visualise your financial data without the hassle of manually translating it into a Power BI data model.
With our Power BI Connector, you can easily drop data entities onto your reporting canvas and build effective visualizations and analytics without needing to understand the underlying finance database schema. You'll get a single point of view of your data, allowing you to combine data from hundreds of sources and gain a comprehensive understanding of your business's financial performance.
Power BI's built-in functionality also allows you to slice, dice, and transform data using built-in or custom visuals. Plus, you can choose what and when to publish and share your insights, making it easy to collaborate with colleagues and stakeholders.
Don't let the challenges of financial data analysis hold you back. Our Power BI Connector can help you uncover insights and make informed business decisions with ease. So why wait? Try our Power BI Connector today and see the difference it can make for your business.
What is the Power BI Connector for Infor SunSystems?
We have done all the hard work for you.
Our Connector solves the problem of automating the data extraction from an Infor SunSystems database and translating it into an Microsoft Power BI data model. This allows Power BI users to drop data entities on to their reporting canvas and build up effective visualisations and analytics without having to understand anything about the underlying SunSystems database schema.
Our connector for SunSystems translates data in to a meaningful and easily understood format, while offering flexibility to configure the system and controlling the scale of data extracted in to the Power BI reporting warehouse along with the content, such as Business Units, Ledgers, Chart of Accounts and Analysis Dimensions.
Our connector includes a web-based application interface where you can define how many periods you wish to import and which of these are summary totals, and which are transactional data. Meaning you do not have to populate the Power BI warehouse with transactional data where not needed for analysis.
You may also have some data in SunSystems which you do not want to make available in the reporting warehouse, such as payroll data, or other sensitive information. The interface allows you to define exclusion definitions, which remove data sets based on Business Unit, Chart of Account, Analysis Dimensions, or ledgers.
Security is obviously of utmost importance in reporting on financial data. The Connector caters for this with an embedded a Row-Level Security (RLS) model through the data which allows you to control which data users can view in the data model, as well as providing Data Set Exclusions to exclude confidential accounts and analysis from the data warehouse extract giving you confidence in the outcome.
Infor SunSystems Data Reporting made easy with Power BI
Drag and drop Infor SunSystems data entities delivered to Power BI canvas
Understands SunSystems data structures out of the box
Web interface for extraction and security control
Consolidate data from multiple systems together with Infor SunSystems data and analyse it in one report
Selected extraction of data by Business Unit, Ledger, Chart of Accounts, and Analysis Dimensions
Ability to define summary or detail transactions for different time periods
Exclusion rules to remove unwanted data from extract by Business Unit, Ledger, Chart of Accounts and Analysis Dimension
Builds out a register for all changes in the SunSystems database and, leverages Power BI's incremental refresh capabilities to ensure the data warehouse is up to date. This only extracts new data available in Infor SunSystems
Additionally works for iPOS eProcurement data in the same connector
Includes a security model to allow Row Level Security across Business Units, Ledgers, Accounts and Analysis Dimensions
Power BI helps streamline reporting workflows by automating processes and eliminating inefficiencies associated with the extraction and manipulation of data.
Power BI significantly reduces the time spent on creating and preparing month end reports. Transformation rules are set once and data updated in real-time
The powerful visualisations in Power BI make it possible to present complex data in an easy to digest way with data interactivity and relationships
With its built-in collaboration capabilities, Power BI makes it easy to share and collaborate on data with not only Infor SunSystems users, but also users with the organisation that do not have access to Infor SunSystems but utilise its data in their business role, such as executive level managers, cost centre or department managers.
I was amazed at the features provided. It surpasses by far the Q&A add-on, as well as other solutions on the market.
Unlock your Infor SunSystems data now with the Power BI Connector from Professional Advantage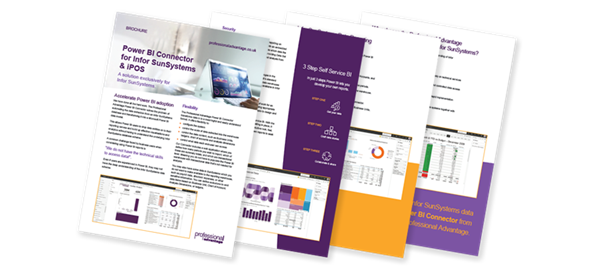 Removes the requirement for in depth, database level understanding of Infor SunSystems in order to surface data into the Power BI canvas.

Save hours of internal effort in producing the same results.

Always up to date.

Start creating reports almost immediately after the simple and rapid implementation.

Does not impose a report structure or limit report creation.
Download now
We can turn your vision into reality.
Complete the form below, or contact us on +44 (0)207 268 9800 to speak to one of our experts today.