Simple, Automated Ledger Consolidation within your SunSystems Data Structure
Consolidations offers the most intuitive and quickly realised option for aggregations of ledger transactions sitting across entities and business units.​
Using your known and understood data structure within SunSystems, Consolidations allows you to extract transactions from one or many business units and post them in to a defined target business unit for the purpose of consolidated reporting. This is done on a real time basis, with no need to export and import file data which is prone to errors.​
The system innately understands the Account, Journal and Analysis structure of the Ledger and allows you to build out selection criteria to identify the required transactions. These can then be mapped to your chosen consolidated structure, changing accounts and analysis as required. The system supports the powerful SunSystems multi-currency functionality and can map source currencies in to base and transaction values as needed during posting.
Supporting  visual hierarchies, the system allows you to build out a structure that fits your needs. Bring entities from a region together and then roll these up to a country or international position as required. Working across single or multiple Infor SunSystems servers, the system can be scaled for any organisation.
Run on demand, summary, or transactional consolidation at any time. Allowing you to report on the current position more regularly. The system can be automated to allow for scheduled processing if required, checking for new journal postings in your source business units and including only these in the consolidation.​
Consolidations data aggregation allows you to use your standard SunSystems reporting tools such as Infor Q&A against the consolidated ledger.
Designed to be used and configured for additional business units by financial administrators and not developers.
Consolidations has completely automated our consolidation process saving at least 75 work days a year and almost eradicated manual errors. The flexibility and configuration is extremely well thought out. The ability to report errors on import, fix and then re-run is superb. We have the consolidation running on an automated script every 4 hours allowing us the most up to date information we require for our business requirements. It is the most innovative product to be added to the SunSystems solution since Vision.
Why people choose Consolidations
No external cubes or data structures
Scheduled or on-demand processing
Multi-server & multi-location
Mapping of accounts and data structure
Supports part owner & joint venture percentages
We can turn your vision into reality.
Complete the form below, or contact us on +44 (0)207 268 9800 to speak to one of our experts today.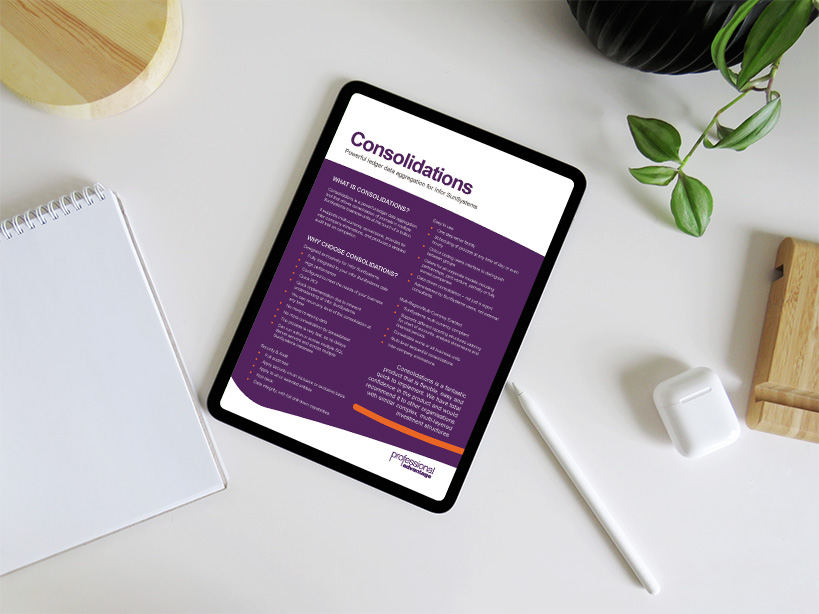 Want to know more?
We understand that the software selection process takes time and research. Consolidations has helped many organisations like yours transform the way they do business. Download our Consolidations brochure to learn more.
Download now